Concert of Scottish Music and Dance
Saturday, November 11, 2017
Scottish Rite Masonic Museum
33 Marrett Road, Lexington, Massachusetts
Two shows - 3:00 pm & 7:30 pm
featuring International Scottish music stars
with Campbell Webster (pipes),  Highland Dance Boston,
the Demonstration Team of the RSCDS, Boston Branch.
Robert McOwen, artistic director.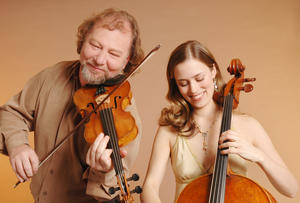 Alasdair Fraser and Natalie Haas
Tickets now available! You can download a flier and mail-order form for advance prices ($15-27).
Visit www.mktix.com/rscd for online sales ($2-$4.50 fee added depending on price of ticket).
For info contact concert@rscdsboston.org or 617-492-8180. Volunteers needed; complementary or half-price ticket, depending on job. Hope to see you there!
Where
Scottish Rite Masonic Museum
33 Marrett Road
Lexington, MA 02421
Parking on the premises
Demonstration Team
Contact
For more information or to volunteer, email Concert@rscdsboston.org